Another day, another Meta leak.
On July 14th, I published a video on my Youtube channel going over some updates about Meta Cambria's controllers known internally as "Starlet." The big takeaway was about how Andrew Bosworth confirmed in an Instagram AMA that Starlet was going to ship with Cambria, despite what I heard about a month ago.
Shortly after this video, I got into contact with my sources faster than I originally was expecting, and in the comments: I hinted at some new info related to controllers coming a future article/video. But I have way more than that. I am comfortable to call this article (and video that will follow) as my FINAL Meta Cambria leak dump.
While you should always take information from my sources as something that can be changed/incorrect: I feel confident enough in the info to finalize my predictions. Anything that comes to my attention about Cambria after this will not be formally reported by me until the official announcement at Meta Connect.

As always, let's do a short recap of my last full-sized Cambria/Meta Quest Pro article. The main predictions were:
Later in the week that the article was published, Meta was going to announce their new Meta Accounts systems to release officially in August. This ended up being exactly correct. Meta confirmed this less than 48 hours after the article was published

Quest Pro was Counter-rotating their displays. I heard back from a reliable source that this was indeed the case. More on that later in the article

New code references to a "META_HAMMERHEAD" device within the "Oculus Internal Drivers." A source previously told me that this was Meta's next smartglasses. AKA Hypernova. My other sources have confirmed this to be true


This device would be akin to a "Ray Ban Smart Glasses Gen 2." I was told this device's major improvements would be in the audio drivers/speakers department. This product is being heavily developed in collaboration with Luxottica. Release date was last targeted for H2 2024, but this date is very fluid.


The Starlet controllers would not ship at the same time as the Quest Pro HMD. This info ended up being outdated and incorrect. And as previously stated, Andrew Bosworth gleefully replied to a question about this in his Instagram AMA: The HMD will ship with controllers

Meta's Starlet Controllers – On Time, On Device(s)
Let's clear the air on why my best sources were wrong on this single point about controllers shipping with Cambria. AND reconfirm that they are starting to ramp up the controller production to ship with the HMDs.
I was told that internally at Meta: there were multiple concerns/issues around a go/no-go decision. A plan was in place to sell the Controllers/charging pad separately, no matter if it was on the HMD release date itself. There are talks all the time about making HMDs cheaper by not including controllers inside the box, especially with hand tracking becoming better and better. Chinese factory lockdowns also pushed the controller's production schedule slightly behind the HMD and Meta was deciding if they needed to release something faster. But the biggest slowdown, I was told, is Quest 2 support.
One of the most asked questions I have received about the Starlet controllers is: "Would they ship separately and work with Quest 2?" I had the assumption for a while that this would not be the case. But, it seems it's being heavily worked on internally at Meta!
I do not want to confirm that this will happen in any official capacity. The engineers have seemed to solve the hard issues. But some others remain. One of the largest caveats of this final decision within Meta is how they will have a different controller firmware update path, via Over-the-Air on Quest 2 (separate) as compared to Quest Pro (bundled in an OS package). I would guess that Quest 2 users would need a special app to update Starlet controllers. Or Meta will rework their entire controller update system.
If this becomes a big announcement at Meta Connect, my sources expect the price of the controllers/charging dock bundle to be around 300 dollars.

A Look Inside Starlet – CAD you believe it?
People have been complaining for a while that all of my leaks have focused on the Cambria HMD itself. Let's change that!
It's rare in a "analyst's" life to be able to get official CADs of devices after a device releases. Let alone BEFORE a device is fully unveiled. Luckily for me, I've been given the opportunity twice. For the HMD and now the controllers.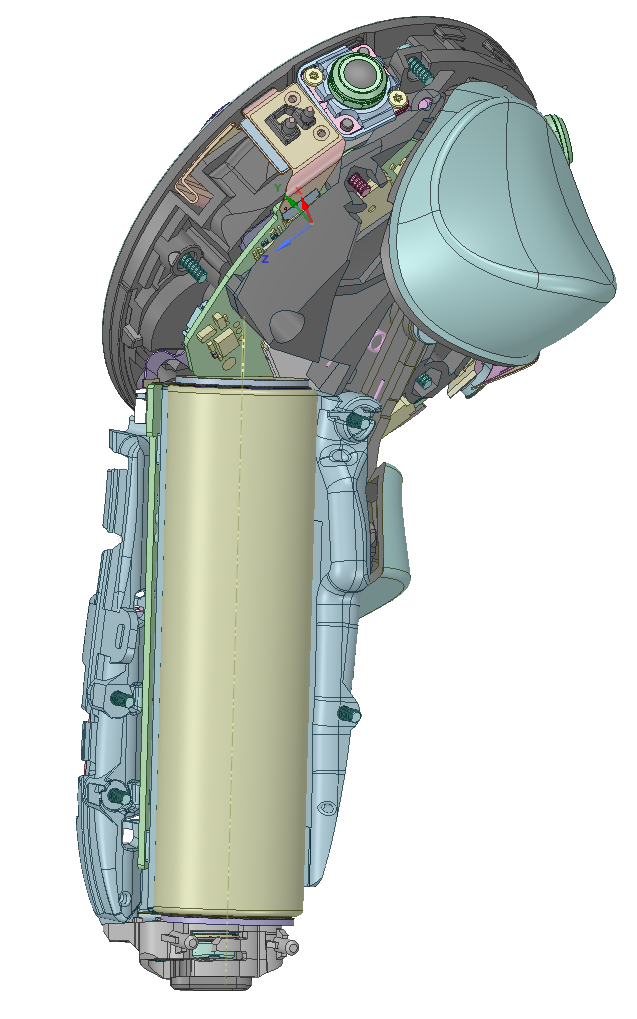 The controllers are already known to be able to track themselves within a play space. They each do this with 3 integrated IR cameras and an onboard SoC such as a Snapdragon 662. Due to the amount of power required to deal with this functionality alone, the controllers ditch the removable AA batteries and use a dock-mode chargeable 3200mAh battery. You can see the "3 dot" contact point on the side of the controller that lays against the "Skellig" dock.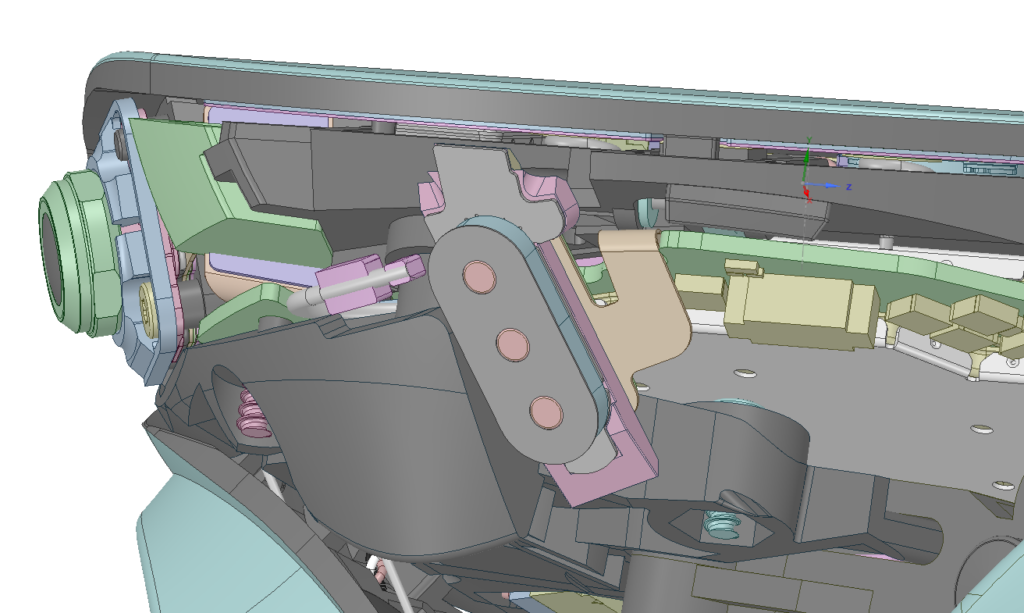 Other impressive functionalities within are what I would like to call "HD Haptics." There are multiple haptic actuators per controller:
One LRA actuator inside the main triggers for reactive vibrations
One LRA actuator underneath the "thumb-rest" for pinching feedback
One VCM actuator in the handle near the battery (higher quality vibration haptics)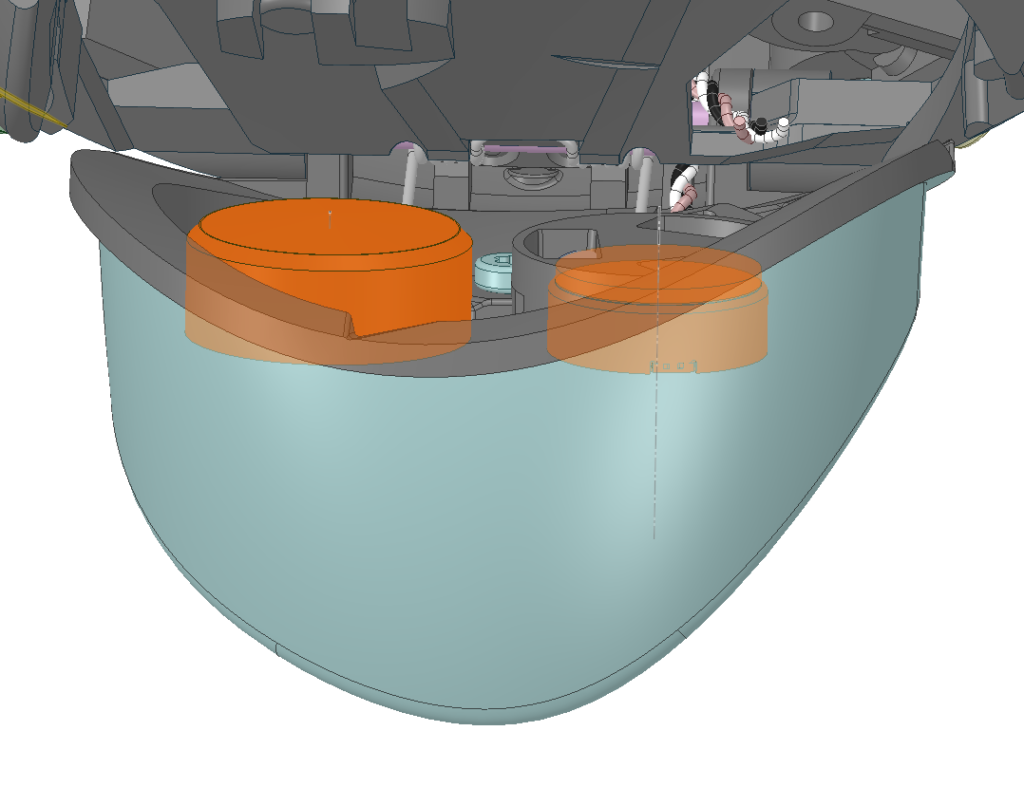 I am also happy to shed light on yet another fascinating feature within Starlet. I was told by one of my sources last week that the final Cambria controllers have a sensor on the bottom of the handle. They guessed it was related to "drawing on a desk in Mixed Reality or VR." After receiving these CAD images and cross referencing this new info, I learned that the bottom of the controller does seem to include a "pressure sensor" exactly for the drawing purpose (right now). Attachments such as lanyards can be detached and replaced with "stylus tips." I would guess this also opens the door for accessory makers to make other interesting concepts with this feature.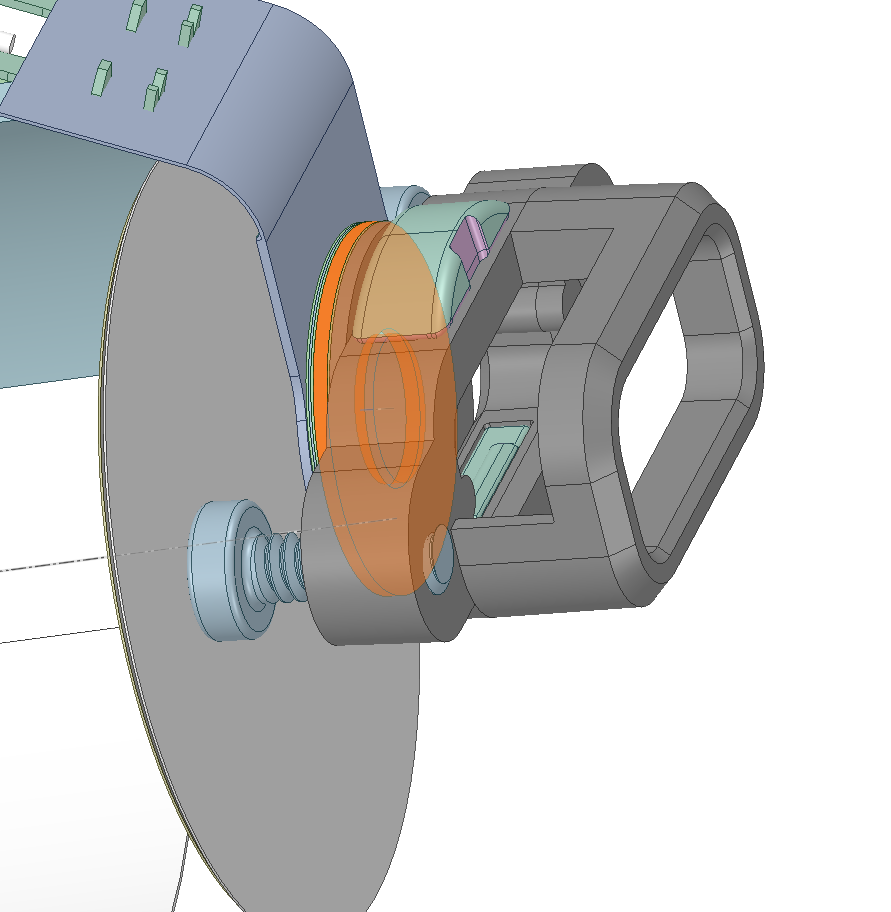 Meta Quest Pro's Displays – Finalized
In my last article, I speculated that Meta was counter-rotating the displays at an angle to increase vertical FoV. My sources have confirmed my suspicions to be true. Both displays are tilted at a 21 degree angle toward each other. Doing this also helped with overall production costs.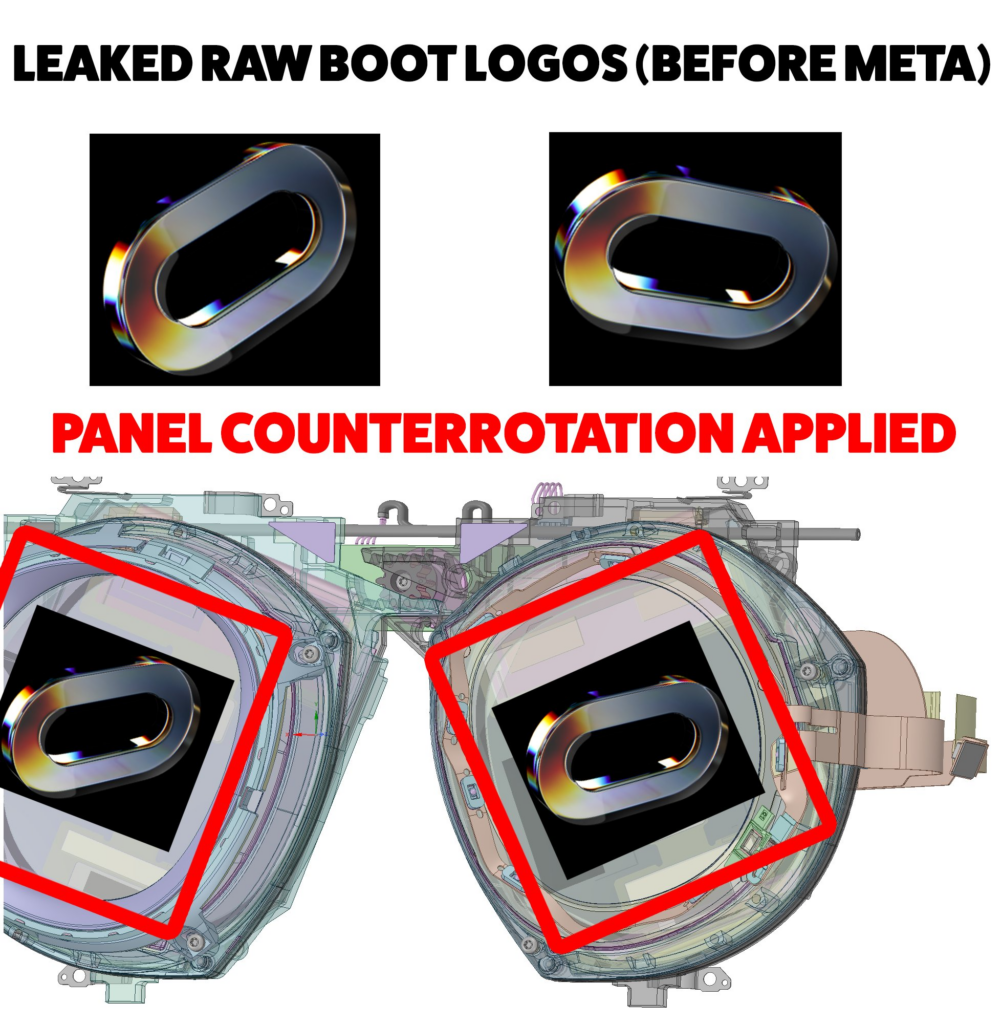 For many months, Quest firmware dataminers have found evidence that Meta would be using a LCD type panel with local dimming (MiniLEDs). Supply Chain Analyst Ming Chi Kuo further discovered that the Quest Pro would be using 2160×2160 per eye panels via his own sources.
I am here to continue the confirmation that Quest Pro is using these panels. But there is a spec that hasn't been reported thus far (excluding panel rotation). The panels being used in Quest Pro are internally called "Tianjin-3" and they include a quantum dot layer to improve color gamut of the LCD. This type of panel is usually marketed as "QLED" from TVs and other HMD manufacturers.
Meta has also perfected their local dimming algorithm which has been a troublesome task for some companies. Local dimming allows the areas of the many backlight zones to turn off and attempt to reach purer blacks you'd expect from an OLED panel. I also have to remind you that Pancake optics are incredibly inefficient with light. So the display has to be VERY bright, correctly turn off their BLU zones based on the images being sent, AND run near a 10% duty cycle. Meta's optical engineers probably put a lot of work into this displays to get them to work.
The display themselves are likely 2160×2160 via the hardware. But the Quest Pro will only be actively running at a 1800×1920 resolution per eye.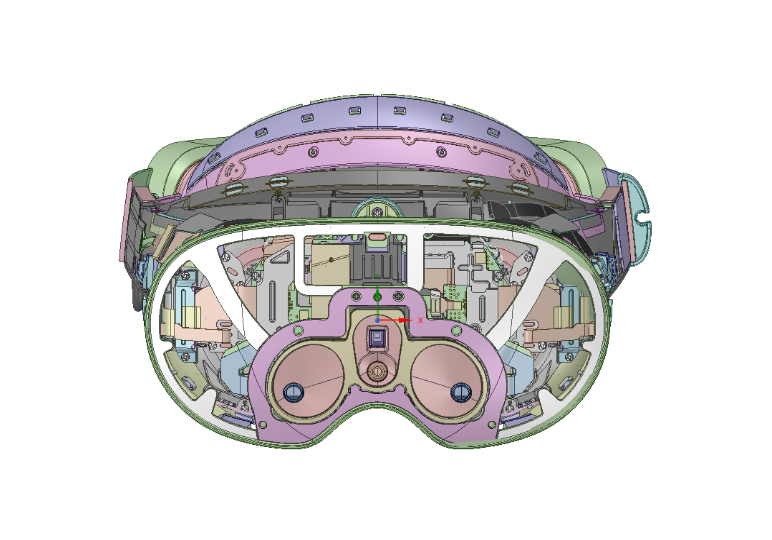 Meta Quest Pro Specs – Final Prediction
Qualcomm Snapdragon XR2 5G SoC
12 GB LPDDR5 RAM
256 GB Storage
10 Sensors + IR Depth Projector for Mixed Reality

(2) "Canyon" – 640 x 480 (IOT, IR Constellation tracking, Hand Tracking)
(2) "Glacier" – 1280 x 1024 (Depth, Passthrough, IR Constellation Tracking, Hand Tracking)
(1) "Teton" – 2328 x 1748 (16MP RGB Passthrough overlay)
(5) "Esker" – 400 x 400 (Face Tracking, Eye Tracking)

Dual Tianjin-3 QLED Panels

2160 x 2160 per eye (1800 x 1920 rendered per eye)
Quantum Dot layer for better color gamut
MiniLED backlighting for local dimming
Counterrotated at 21 degrees to improve vFOV

Custom Pancake Lenses
WiFi 6E Capable
Improved Spatial Audio
5000 mAh Li-Ion Battery (dock charging available)
$1500 for the Full Kit (HMD, Controllers, Charging Pad, Cables, Documentation)
Pre-Orders begin during Mark Zuckerberg keynote at Meta Connect
Street/Release Date: October 25th, 2022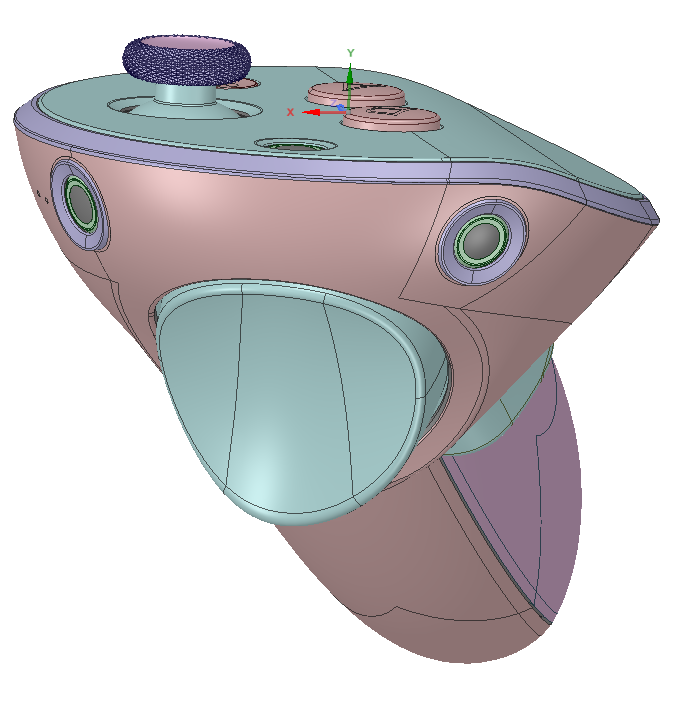 Meta Quest Pro Controller(s) Specs – Final Prediction
Qualcomm 662 SoC
3 IR Cameras for Standalone 6DoF tracking
Rechargeable/Non-Removable 3200 mAh battery (dock charging)
HD Haptics (multiple actuators per handle)
Pressure Sensor
Noticeably heavier than Quest 2 Controllers
Launches with Cambria HMD
Launches as separate bundle with Charging Dock ($300)
My End for Cambria – Beginnings for Others
As I said earlier in this article, I do not plan to write any more Cambria/Quest Pro focused leak articles on this website. If there are anything incorrect or if I find new info, I will post a tweet/update this article. I am willing to take the L for anything that ends up untrue within this information.
That being said, this isn't the end for my reporting on Meta, unfortunately. Hardware development is obviously ramping down for Cambria as it's now being mass produced. But things are ramping up for Quest 3. So I want to end this article with a few tidbits on what I am already learning.
A few things that are happening internally within Meta that I couldn't fit in this article:
Meta will enforce the new account terms of services at the beginning of next year, so users SHOULD be able to bypass the TOS for a few months

There seems to be steady increase of talks internally about competitors now as compared to when Valve was releasing the HTC Vive in 2016 and the Index in 2019

Just like we datamined Cambria's display resolution more than a year before its release, we have gotten our first glimpse of what the Quest 3 display resolution will likely be


Quest 2 PTC Firmware v43 is currently going out to some users. Deep within the code we see that Eureka865 (Quest 3) has a single LCD display running at a resolution 4128×2208. A 30% pixel increase over Quest 2