It's been about a month since I released a large subset of leaked information pertaining to the internals of Meta's Cambria/Arcata HMD and the first Quest software updates we would see come out leading up to the HMD's release.

If you forgot what that included, I reposted the Patreon article on this website. So far the "report card" of what my sources told me have been true. And I recently received more information that either was not known before OR I got a lot of questions pertaining to it.

As I always say in my head: another day, another Meta leak.

Report Card of Previous Leak and Meta Accounts
This section is just an overview of what software updates I said would be the next to release. And to recap, I wanted to point out what has transpired from Meta's lips since that post on June 1st.
I said: "The next 2 major software updates are for the new Meta accounts promised to replace the Facebook account and co-presence, which will allow you to invite friends into your home environment."
Nine days after this, Zuckerberg pushed a video onto his facebook account detailing a first glimpse of Horizon Home
Twenty-seven days after this, Meta showcased Oculus TV/movie content in Horizon Home you can watch with friends
These are just the beginning and we will see more customizable homes in the future. Eventually leading into the ability to own/display NFTs. Meta has also recently announced plans to shut down their short-lived "Novi" crypto wallet service. It should be noted that in announcing the shutdown, they have admitted the technology will be used for their "Metaverse Projects." The writing is on the wall for that.

So that shows that my sources were right on the money about telepresence coming first. What about Meta accounts?
All I have to say about that is: wait a couple days after this post goes public. It was recently leaked in a memo that the Meta accounts was internally called Project Simile. I can reconfirm that codename. I can also add that even though the official announcement is supposed to happen at the end of this week, It won't arrive on Meta HMDs until August with/around v43. Current users will need to accept a new terms of service that will migrate/convert existing accounts.

Meta Cambria's Eye + Face Tracking Sensors
After I published images of the CAD files on my mega-dump article, The most common question I received was: "Where are Meta Cambria's Eye and Face tracking sensors/cameras?
Just to satiate your lust for knowledge, I am including two images below that is likely answer your question.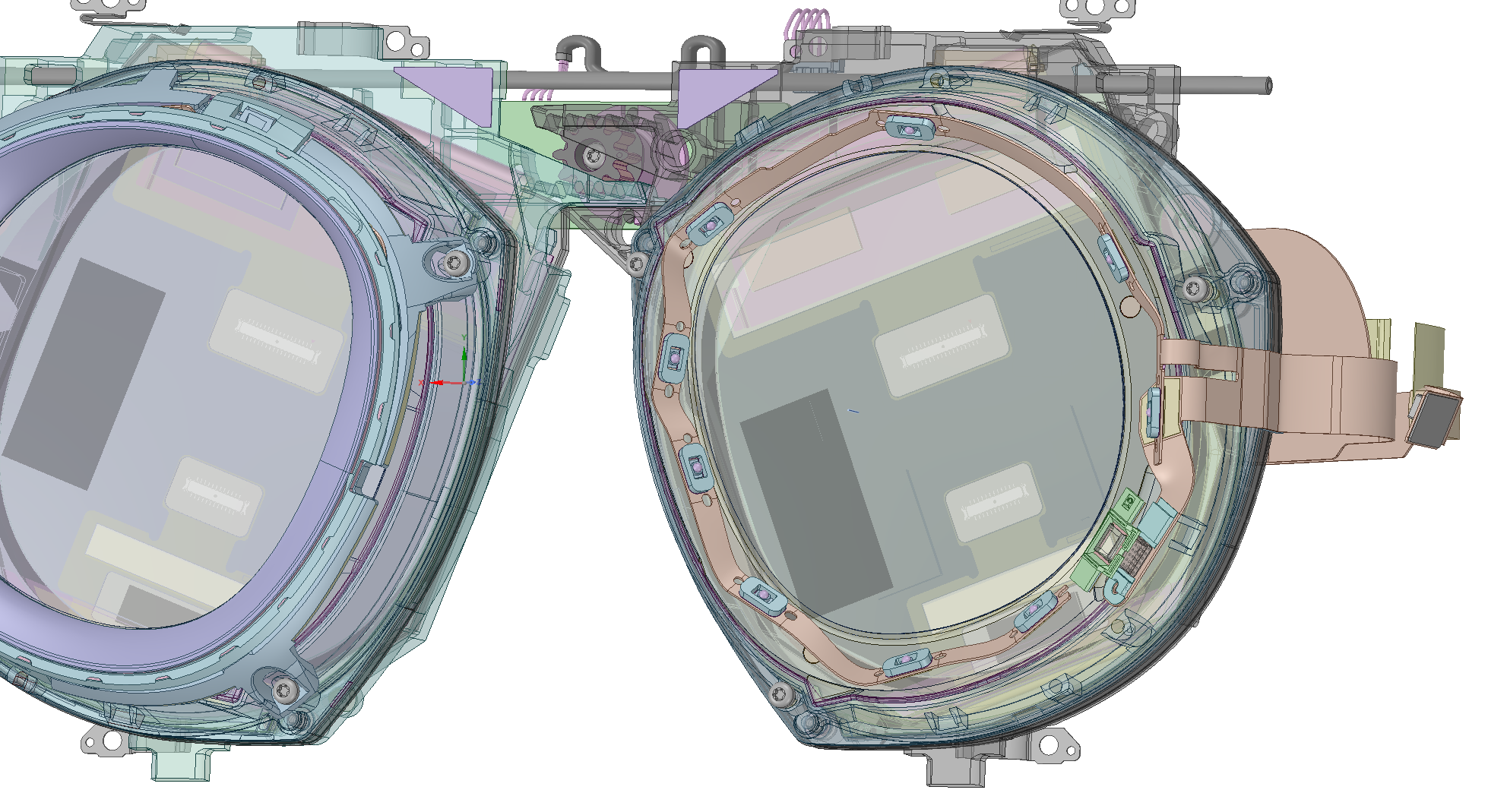 For the eye tracking system, all the sensors/IR emitters are hidden underneath the rim of the eye cup.
For the face tracking system, all the sensors/IR emitters are located beside the nose gap underneath the HMD's housing.

Counter-rotated Displays becoming the Standard?
Something I noticed right away from these images is in the spots where the display would be positioned. In my research on the Valve Deckard, I noted a patent Valve first pre-filed back in January 2019. It was called "COUNTERROTATION OF DISPLAY PANELS AND/OR VIRTUAL CAMERAS IN A HMD."

In this patent, Valve would describe how a display system within a head mounted display could be counterrotated in orientation. The compositor of such a HMD system could be configured to render/rotate frames to match the angle of rotation for each eye. Late last year in my Steam VR Datamining, I found references to code that would exactly allow a HMD to tell the Steam VR compositor the exact degrees their panels were counterrotated. So my belief was Valve was pursuing this system.

After seeing these new images and the Mirror Lake concept that also heavily hints to counterrotated displays: I expect this shall become the standard in high end HMDs. The benefits of doing this would to get more Field of View out of smaller displays that are usually square or slightly rectangular. This is especially beneficial in eking out a higher vertical field of view. Other benefits in doing this counter rotation include giving more space for a nose gap (comfort) and to hide panel/sampling artifacts induced by current rendering steps such as super-sampling/antialiasing.

Meta Cambria becomes VERY handy
The second most asked question I got from my previous leak was: "what about the Starlet controllers?"
For the most part, Cambria was known to have controllers codenamed "Starlet" that was able to remove the Quest 2's ring by including cameras to do their own SLAM tracking. However, Reliable sources have told me things I was not expecting.
I once heard a rumor from another source that the Starlet controllers would include adaptive triggers that would give force feedback similar to the PS5 Dual sense controller and the upcoming PS VR 2 controllers. After cross referencing this with my other sources: they did confirm to me that this was still the plan. But this is not the bombshell.
The Starlet controllers will not immediately release with the Cambria HMD. Their projected release schedule will be alongside the charging pad (apparently known as Skellig internally) later on. I have been hearing about a huge shift in opinion on what would become the standard input system for high-end Mixed Reality headsets. First Apple was known to likely not include controllers, and the same appears to be true with Cambria. The depth sensor on the front of the HMD is heavily focused on improving the amount of data available to allow hand tracking to surpass even the Quest 2's.
I should finally note that since these controllers have more integrated components: their weight is significantly heavier than the Quest 2 controllers.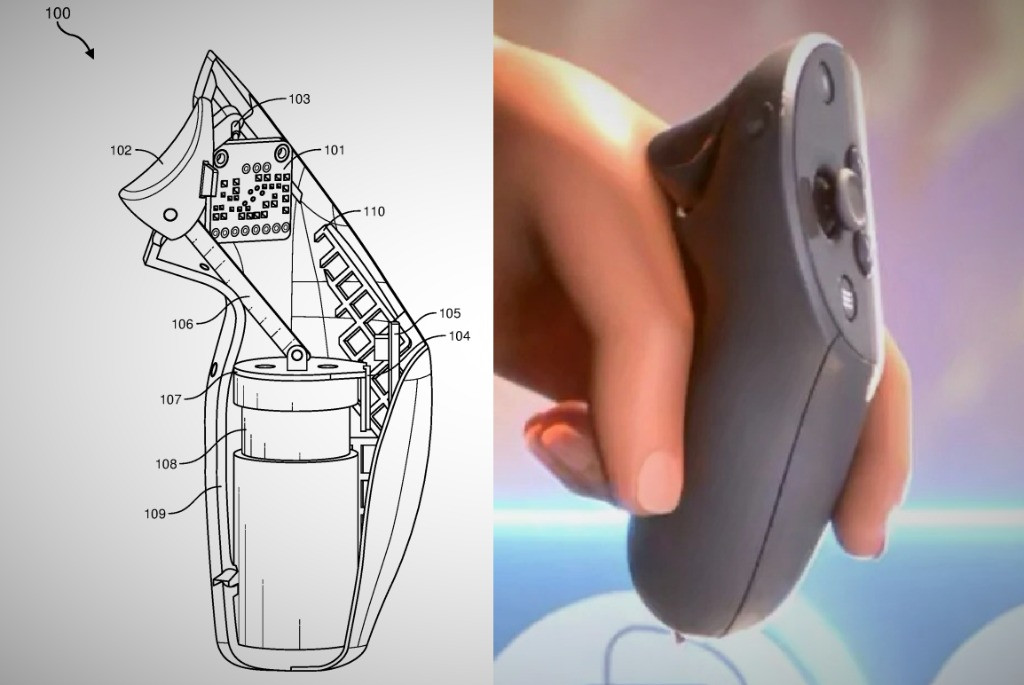 Cambria New User Experience + Gatekeepers found in Firmware 35444700479800000
Project Cambria is going to use the same app ecosystem as Quest. This is well-known, but I must reiterate the fact. I questioned my source on what first-party apps/features they are looking to introduce with their new high-end prosumer HMD.

I learned they are pushing heavily on getting third-party devs to produce apps that take advantage of Cambria's HW right now. Dev kits have been sent to a fair amount of these developers already. However on the first party front: Workrooms is the main first-party app that Cambria was built around, so it will have more engineering support/updates than any other first-party apps for now.

Another large focus is introducing a brand-new "NUX" or "New User Experience" that will get users accustomed to the HMD's features and walk you through a first time setup. We already see datamined references within the newly released Quest firmware.
ABUSE_REPORT_RECORDING_MAX_DURATION("oculus_integrity:abuse_report_recording_max_duration_ms"),
APP_LOCKS_SETTINGS_SECTION("oculus_systemux:oculus_sysux_app_lock_settings_section"),
AUI_SHOW_UNKNOWN_SOURCES_IN_DYNAMIC_APP_BAR("oculus_systemux:aui_show_unknown_sources_in_dynamic_app_bar"),
DESTINATION_UI_PERSISTENT_INVITE_BUTTON("oculus_systemux:oculus_systemux_destination_ui_persistent_invite_button"),
MIGRATE_PARTY_UPDATE_NOTIF_TO_SP("oculus_shared_social:oculus_migrate_party_update_notif_to_sp"),
NOTIFICATIONS_FEED_USE_TOAST_DESIGNS("oculus_systemux:oculus_vr_notification_feed_toast_design"),
NUMERIC_BADGE_FOR_UNREAD_MESSAGES("oculus_shared_social:numeric_badge_for_unread_messages");
OCULUS_FIRST_TIME_NUX_ENABLE_FRL("oculus_first_time_nux_sessionless:enable_frl"),
REALITY_TUNER_SLIDER("oculus_guardian:oculus_guardian_reality_tuner_slider"),
These are all the new Gatekeepers that would enable certain functionality within Quest firmware
In a tweet I once made, I referenced new gatekeepers related to Meta accounts but also "FRL" accounts. These FRL accounts especially caused confusion. Let's clear up what those are.

FRL are special accounts given to employees of Facebook Reality Labs and would give benefits that would help with beta testing different aspects of Quest software without running into annoying things such as the upcoming "NUX" (New User Experience) being built for Cambria at the moment

OCULUS_FIRST_TIME_NUX_ENABLE_FRL will let these employees bypass First Time Setup for beta testing.

Quest 3 and Meta's other AR/Wearables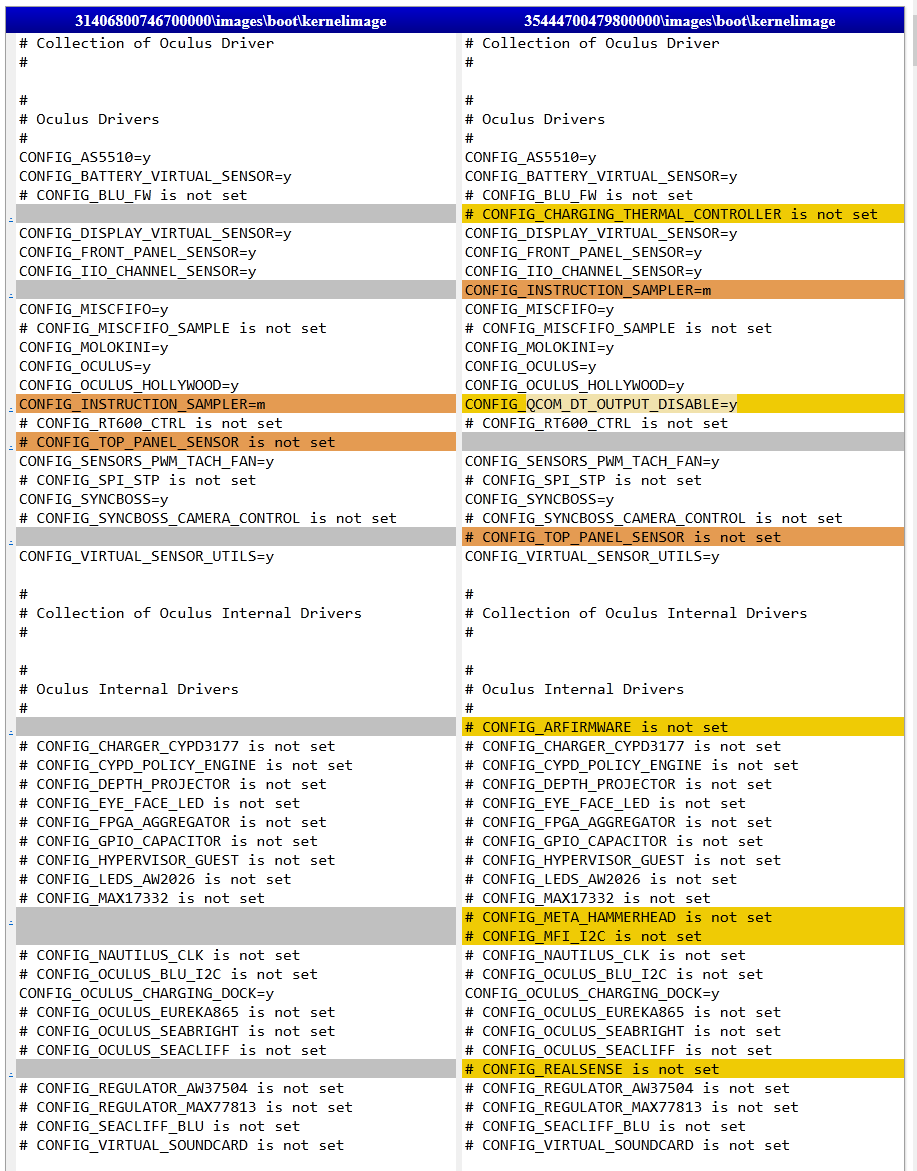 Meta had some tough press in the past month. Internal memos warning of slowdowns in hiring and a slight threat to push people out "who don't belong" in the company.
Another large piece of news was related to a pushback in their immersive AR glasses plans. Sources tell me that Meta was focusing heavily on productizing these wearables in comparison to Quest 3 (codenamed Stinson). This is starting to change, and I can now confirm Stinson is the next major jump in the Quest line just like how the Quest 2 replaced the Quest 1. Releasing Holiday 2023. I have started to hear some specs related to this device, but that will be for another time as I confirm them with other sources.
These cancellations were a bit of a huge blow to the internal teams. This includes their cancelled smart watch known as Milan. But one thing to note: people seemingly have forgotten that Meta hasn't given up on their AR plans. Cambria has a huge AR component (Mixed Reality HMD) and the "Hypernova" smartglasses is still very important to their wearables plan. Technology for an immersive pair of eyeglasses is still years away, so Meta is pushing on productizing what is way more possible rather than the "longshots."
In the most recent firmware, we got new internal drivers that hint to new products and ARFIRMWARE. One of my sources have told me that Meta Hammerhead is an internal name for their smartglasses. We were already seeing references to the Wireless AR Smart Viewer reference Design from Qualcomm before that device was released. I'd expect Meta's first glasses with a display to be very similar to that design. It's interesting there are MFI_I2C drivers that reference Apple's "made for iPhone" program.

VR Air Bridge
I have tweeted previously about Meta partnering with third party companies such as D-Link to release WiFi dongles known as VR Air Bridges that will include Meta-made drivers to simplify the user setup for Quest's Air Link PC VR Streaming feature.
Meta is still heavily focused on building their Avalanche Cloud gaming service, but they also want to improve the reliability of wireless PC VR streaming to their VR devices with these dongles. In the new firmware, we now have SystemUX elements that will allow Quest/Cambria users to see the status of their Air Bridge Connection. We are likely to see more about public announcements about VR Air Bridge soon.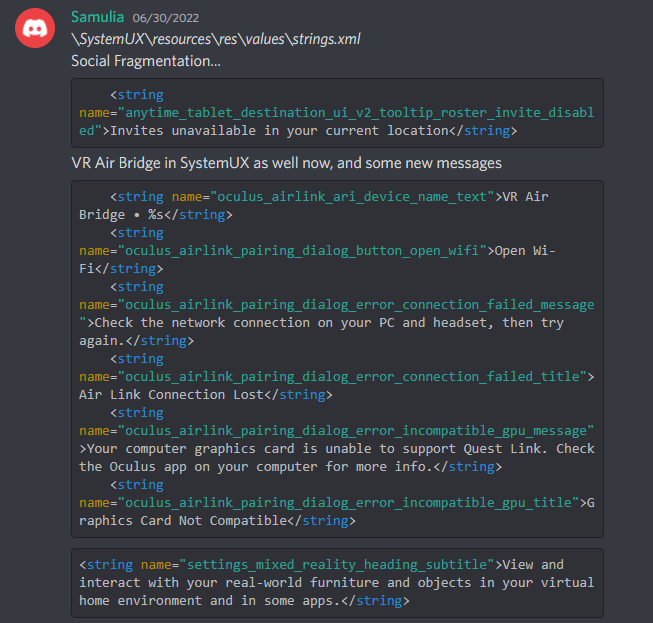 Bye, I'm Brad!
That is all for now. Thanks to all my Patreon supporters and anyone else who supports my "work."
To end this article, here is a beautiful group photo taken from my recent Independence day VRChat meetup